Crepes with Warm Coconut Jam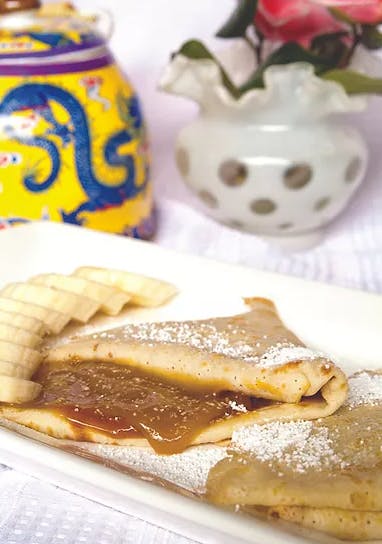 This crepe batter can be used to make a sweet or savory crepe. For a savory version, cut jicama, carrots and lettuce into thin strips with Azalina's Peanut Sauce, and roll them up for a healthy and speedy snack.
Crepe Ingredients:
1 egg
1 cup low-fat milk
1/2 tsp vanilla extract
6 tbsp all-purpose flour
1/4 cup whole wheat flour
1/2 tsp salt
1/2 tsp canola oil
Filling:
1/2 cup Azalina's Coconut Jam
Directions:
Beat egg, milk, vanilla, all-purpose and whole wheat flours, salt and oil until smooth (approximately 1 minute). Cover and let rest in refrigerator at least 2 hours or overnight. In a pan over medium heat, melt 1 tsp butter, coat the pan evenly. Pour 1/4 cup of the batter into center, tilt pan slightly and roll to spread the batter thin to the edges. Cook until crepe is golden underneath (approximately 1 minute). Flip and cook for 1 more minute. Move to a plate. Repeat with remaining batter.
Lay crepes flat, spoon about 1 tbsp of Azalina's Coconut Jam into the center, fold into a triangle, dust with powdered sugar, and serve while warm. Serves 4.