Spicy Noodle Soup ("Laksa")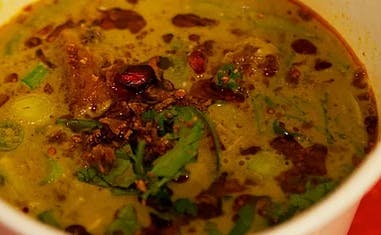 The complex medley of herbs and spices used to make this rich soup is characteristic of Malaysian cuisine, and will surely warm you up on a cold day.
Ingredients:
1 (16 ounce) package wheat, rice or egg noodles
1 lb shell-on shrimp, deveined
1/2 cup sugar
Kosher salt
3 tbsp peanut oil
3 star anise
3 cardamom pods
3 whole cloves
2 cinnamon sticks
2 qt vegetable broth or chicken broth
2 tsp white pepper
2 tbsp tamari
2 cans coconut milk
Cooking spray
8 oz firm tofu
8 oz original tempeh

Flavoring Paste:
15 shallots, peeled
5 cloves garlic, peeled
Ginger (1-in piece), peeled
1 tbsp fennel seeds
2 tbsp cumin seeds
3 tbsp coriander seeds
1/2 cup dried chiles, stems and seeds removed, soaked in hot water
1/3 cup almonds or macadamia nuts, roasted
1 tbsp turmeric
6 stalks lemongrass, discard end and cut into 1/2-inch pieces
1 tbsp peanut oil

Garnishes:
1 lb fresh bean sprouts
1/2 cup mint
1/3 cup fried shallots or caramelized onions
1/3 cup chopped cilantro
2 hard-boiled eggs, halved
Chili oil
2 limes, halved
Directions:
Pan roast shallots, garlic, ginger, fennel, cumin, coriander, chili, almond, and turmeric in a dry pan until the smell of spices start rising.
Remove and blend them in a food processor with lemongrass and 1tbsp peanut oil - add a little water, if needed.
Wash shrimp and pat dry.

In a dry pan, add sugar and caramelize. Working quickly add in shrimp and a pinch of flavoring paste. Stir in 1 tbsp water and a pinch of salt, and keep stirring until shrimp is cook. Remove from heat.

In a stockpot, add in the remaining peanut oil and spice mix, star anise, cardamom, cloves and cinnamon. Cook until the fragrance of the spices start breaking up. Slowly add in vegetable or chicken broth. Bring it to boil, season with white pepper and salt. Boil it for 3 minutes. Add in coconut milk and turn down the fire. Let it simmer for 2 minutes.
Ladle over your noodles, shrimp, bean sprouts, mint, fried onion, chili oil and a squeeze of lime juice. Serves 4.